Saying the Azaan holds great benefits and reward as mentioned in the Ahadith.

How to say Adhan?
Stand outside the mosque in a high place facing the qibla with your fingers in the hole of the ears or with hands on your ears, reciting the following words: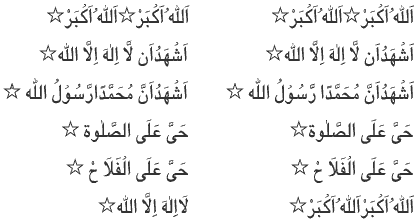 Note:
In the Azaan of Fajr, after

add

. During Azaan and Iqama, turn your face to the right on
and on

to left.
After Adhan:
Read the folloing duaa after Azaan with durood (Salah) in the beginning and in the end:

Iqama (Takbeer):
Iqamah is similar to azaan with a little difference. After
and

add following:


(for two times).
During Iqama do not put your fingers in your ears and do not not put your hands on your ears, say the iqama with a lower voice compared to the azaan but not so low that the people there can not hear, say the words of Iqamah without pauses like in Azaan.
___________________________________________________________________________________
Learn To Read Holy Quran Live Quran Tutor in the Convenience of Your Home Online Quran Lessons
One-to-One Quran Classes
Register For Quran Reading Classes
1 Week Free Trial Classes